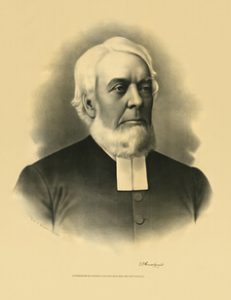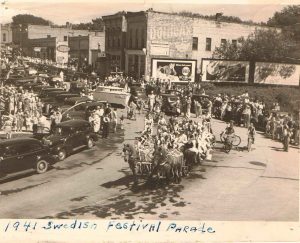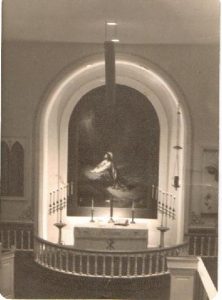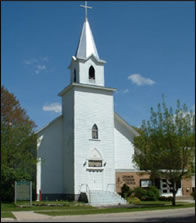 A strong faith in God sustained the Swedish immigrants who brought from Sweden their Lutheran church background. In Sweden the state directed the clergy to teach their congregants children to read well enough to memorize Luther's little catechism. Religion was a deeply felt need among the immigrants and one of their first concerns after settling was to organize a church congregation. In 1868 the Scandinavian Lutheran Church was organized in Whitehall. Family records show that Anders Johansson (Ryd) was confirmed in Whitehall in 1870. In 1872 Swedish members formed the Swedish Evangelical Lutheran Lebanon Church of Whitehall. A gothic style church was built using lumber cut from the surrounding woods and milled in a local sawmill. Services were conducted in Swedish until the early 1930's. Today the neighborhood around the church is still known as Swedentown.
In 1877, Carl and Johanna Johnson, grandparents of Chuck Svensson and Eleanor Carlson, donated land on which the church is built.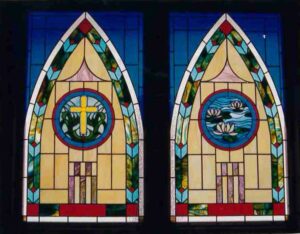 The WELCA Windows – 1988
The windows were given in memory of Russell and Dorothy Johnson. Created by local artist Sharon Brown of Montague, the windows honor all of the women of Lebanon Lutheran who have served, or will serve sometime in the future, the needs of this congregation and the community at large.
Lebanon's Clergy
V.A. Youngberg                       1872 – 1875
A. Chilleen                               1875 – 1890
N.A. Lundahl                          1890 – 1894
P.A. Carlson                            1894 – 1900
J. N. Alexis                              1900 – 1908
J. B. Bennett                           1908 – 1910
A. J. Beausang                        1910 – 1927
B. Peter Martinson*              1927 – 1933
Carl J. Segerhammer            1933 – 1944
Carl D. Bostrom                     1944 – 1948
Axel Berg                                 1948 – 1955
Ralph Nelson                          1956 – 1961
Earl Nelson                             1961 – 1975
Larry Foster                            1975 – 1995
Doug Ogden                            1995 – Present
* denotes Grandfather of Peter Palmer
Some of our members have also entered the clergy:
Holmes Beausang ( Grandson of A. J. Beausang)
Kim Taylor
Jim Foster
Megan Crouch